Effective business estate planning means that your final wishes are respected, and your estate reaches the family and friends that you want to leave it to.
---
Business estate planning is an essential part of your business planning, for two key reasons
1. Safeguard the business assets and interests that you've built up over a lifetime for your loved ones to inherit
2. To ensure business continuity without delay or distraction if you become incapacitated or die
---
There are three key areas to consider in your business estate planning process.
They will ensure that your business will continue to operate, and your loved ones receive the share of your estate in the way that you wish to leave it.
1. Business Assets
2. People – in your business and your loved ones
3. Business Continuity
---
Business Assets
This could be any number of assets including property, shares and equities, intellectual property, business income, or anything else that has value. Of course, these are considerations in your will, as are the people to who you would wish to leave those assets. Business assets can often cumulatively have a value greater than the tax-free Inheritance Tax threshold of £325,000.
For property investors, businesses that own property or that may have valuable intellectual property it can be easy to accumulate an asset value higher than £325,000. And don't forget that this will be a cumulative value with your home and other personal assets. As part of your business estate planning process, you should consider the value of your assets, and how you may be able to mitigate the tax liability.
You could utilise a trust as a means to pass assets on. There are a number of options. Trusts are complex structures that require expert knowledge to establish, so you should always take professional advice.
People – in your business and your loved ones
Your final wishes are likely to include a number of beneficiaries chosen from family and friends. And of course, you will wish to leave certain things to certain people. This could include your business assets, particularly property, shares and equities, and shares that you might hold in a business.
---
Estate Planning for Business: Why it is Important?
Estate planning is a good choice if you own a business and if you are worried about the future of it. A lot of people have been thinking about estate planning for a long time but they haven't jumped o…
---
But there are considerations for your business too. Who could be best placed to inherit shares in your business in the interests of its continuing, successful operations? And how could you record this succession in your business estate planning?
Business Continuity
If you or one of your fellow directors becomes incapacitated the entire operations could be affected. This could include the ability of your business to carry out banking transactions or continue with existing contracts. So in this regard putting a structure in place with clear instructions is a crucial part of your business continuity planning.
Take a look at our blog on business continuity planning to find out more about how you can protect your business in the event that you become incapacitated.
---
Business Continuity and why you should have a Business LPA
To overcome the loss of a business partner a firm would be forced to go to the Court of Protection to appoint a deputy. This is a lengthy and expensive process….
---
A Lasting Power of Attorney can be utilised at any point during your life should you become incapacitated by injury or illness. So when you consider your business continuity planning an LPA should be included.
Similarly, as part of your business estate planning, the people who you will leave control and shares in your business to are essential both from the point of view of who you would like to benefit from your business success. But also from the point of view of those people having the essential skills and desire to continue the successful operations of your business. The beneficiaries of your business would need to understand your business and operations as well as the ability to work alongside the remaining directors or partners. So finding the right balance may be complex, but is crucial.
---
How can Will Protect Help with your Business Estate Planning?
Our team understands that the conversations and decisions that you will make during the estate planning process are emotive and complex. So we'll work with you through every step to help you understand the complex issues at hand so that you can make the best-informed decisions for you, your family, and your business interests.
---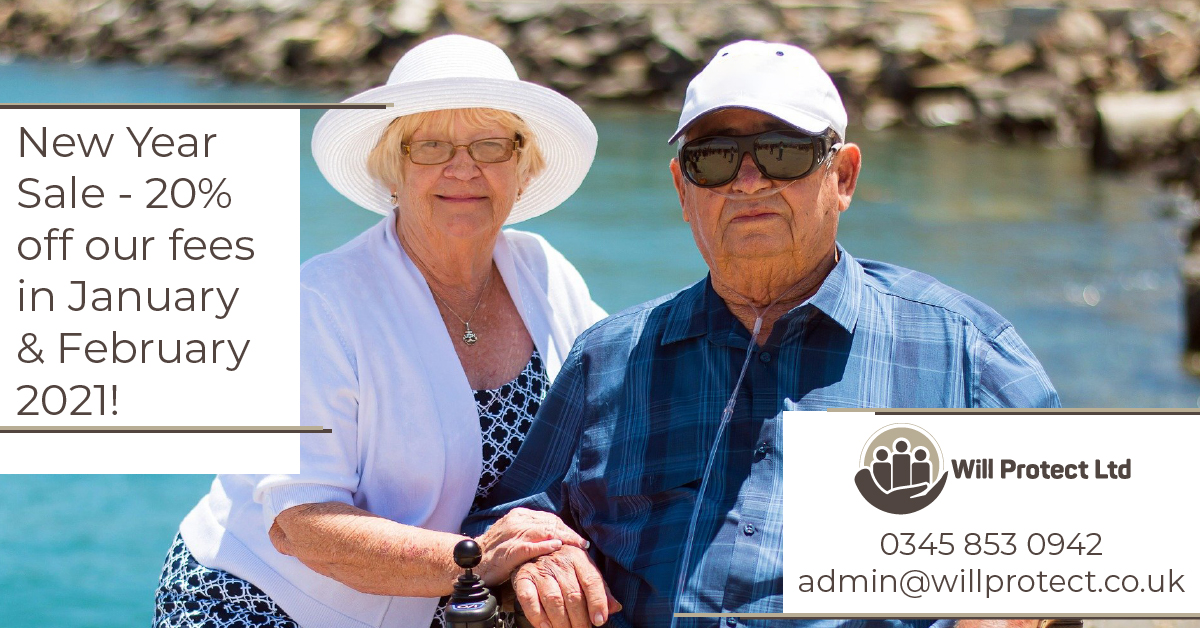 During February we're offering 20% off our fees so now could be the perfect time to start your business estate planning and get everything in place that you need to give you peace of mind.
---